Vinyl Siding Painting in Winnetka, Illinois
Mars Painting offers superior vinyl siding painting in Winnetka, Illinois.
Painting can be a laborious, time consuming task, especially when it comes to the exterior surface of your property. Why take on such a task yourself when you can have Winnetka's leader in vinyl siding painting.
---
Call for a FREE Quote
---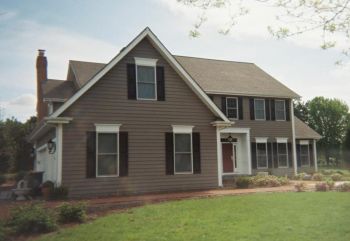 Since 1992, Mars Painting has been painting the exterior surface residential and commercial properties all over the Winnetka area. Having years of experience, our staff can paint the vinyl siding on your property, at affordable rates, and have it looking as good as new.
Stop looking at the faded, worn out vinyl siding on your property. Have Mars Painting of Winnetka give you an estimate on your vinyl siding painting now. Call (224) 347-6757.
Be the best, sharpest looking home or business on the block!
---
Call for FREE Vinyl Siding Painting Quote
---
WHAT CUSTOMERS ARE SAYING:
5★★★★★ - "Mario and his entire crew were so professional. Mario was very concerned about explaining his services and making sure that I was happy with every single step they took. From the moment he gave me a quote (which was super quick), it was very obvious to me that he took the utmost pride in his work AND in the work of his painters. They all truly are a team. I could tell that they were not a bunch of individuals just doing a job. They worked together, and not in a hurry (but finished the entire job in a timely manner) and they were friendly with one another and friendly to me. I highly recommend Mars Painting. Thank you, Mario and crew!"

Cheryl Monken in Libertyville, IL

2023-09-20

5★★★★★ - "Excellent painters who sweat the details. I have hired them twice. On one occasion, they took it upon themselves to redo a bedroom ceiling with oil primer because a small barely visible stain was showing. Mario and his team are great professionals and a pleasure to work with. I highly recommend them."

Luca in Chicago, IL

2022-01-24

5★★★★★ - "Mario and his crew are TOP NOTCH! I purchased a place with popcorn ceilings and crown molding everywhere (even in the closets). They removed all the molding and got rid of the popcorn and painted the entire house. The lines are seamless and the place looks incredible. The crew is exceptional, on time, reliable and friendly not to mention excellent at their work. I HIGHLY recommend this company and their team."

Monica Paluch in Grayslake, IL

2022-01-07

5★★★★★ - "Mario and his crew are top-notch. We've used him for years for our interior and exterior painting. We're in the Long Grove area and highly recommend them. Very professional."

Homeowner, Painting in Waukegan, IL

2021-06-30

5★★★★★ - "I contracted Mars Painting to paint rooms inside my home, paint a banister, paint an outside porch railing and our shed. The end results were amazing! Mario was exceptionally friendly and professional. His prices were extremely fair. He and his crew delivered on everything he promised and then some. Always on time, stayed on the job every day until completed. Cleaned up perfectly at the end of each day. Their attention to detail was very obvious.
Professional, knowledgeable, courteous!
Mars Painting will do all my paint projects in the future and I have already recommended Mars Painting to several people!"

Ron Friend

2021-04-26

5★★★★★ - "Mario from Mars Painting just finished my house here in Green Oaks. His painters were fabulous to work with. They did a fantastic job!"

Aubrey in Hawthorn Woods, IL

2021-02-08

5★★★★★ - "Mario was great to work with. Everything from getting an estimate, helping with color selection and the overall quality of the work. Mario and his team do a fantastic job all around. Would highly recommend for anyone looking to paint the exterior of their house."

Eric D., House Painting in Green Oaks, IL

2020-12-23

5★★★★★ - "Mario and his team did an excellent job. They replaced some drywall, holes in one drywall, all the screw holes on the wall, and ceiling before painting the whole garage. The workers did an excellent job and very professional with everything. The pricing was excellent with the job they did. I will definitely call Mars painting again for my painting needs."

Mark S., Painting in Long Grove, IL

2020-07-02

5★★★★★ - "Easy with no added additional fees. The crew is very professional, friendly and attention to details. Will highly recommend."

Magalene Kelly in Vernon Hills, IL

2020-03-02

5★★★★★ - "So impressed with Mario and his entire crew! Mars Painting completely transformed our home from trim to walls to ceiling. Highly recommend Mars Painting! Total professionals."

Caitlin Wehde, Interior Painting in Green Oaks, IL

2019-12-14

5★★★★★ - "Have used Mars Painting for several years now. Inside and outside work. Mario and his entire crew always go beyond expectations. Highly recommend them. Their work is superior. Professional from start to finish."

Micheal Palermo, Painting in Dundee, IL

2019-12-14

5★★★★★ - "Mario and his team just finished painting the exterior of our house in Hawthorn Woods and it looks GREAT! Very accommodating, courteous and with a fair price. We would certainly use the Mars Painting team again!"

Victor Giampietro, Exterior Painting in Glencoe, IL

2019-12-14

5★★★★★ - "Mario and his team did a fantastic job in our home. We had a major drywall repair in a large room and it looks good as new. Also several rooms painted. I can't say enough about the experience. Five star all the way."

Janice in Libertyville, IL

2019-05-08

5★★★★★ - "I used Mars Painting to repaint the interior of my house. They are very professional, well within budget, get things done on time and are very professional. They did an amazing job and are very clean, and do not leave the house in a mess after they are done for the day. I used them again for the water damage I had due to the bad winter. They delivered as promised. They will paint the exterior of my house this summer for sure. I don't have to look for any other painter. Now when I need a paint job, I call Mario."

Anonymous, Interior Painting

2019-03-27

5★★★★★ - "Mario and his entire crew did a beautiful job on the exterior of our home. They turned old dated bricks new again! The attention to detail was amazing and everyone was so professional and friendly. Mario quoted us a fair price lower than other companies in the area. We highly recommend them and look forward to using them for all our future painting needs!"

Mike and Steph

5★★★★★ - "I asked Mario to quote removing the "popcorn" ceiling from our living room and to paint the interior of the rest of our home. He arrived exactly on time and gave me an estimate on the spot. In the end we hired him only to do the ceiling work (we decided to do the painting ourselves). Mario and his crew did an amazing job. Again they arrived on time, were very respectful of our home and cleaned up thoroughly when they were finished. We are so happy with the end result that we have decided to go ahead and hire them to do the interior painting after all. Looking forward to working with him again. I would (and have) recommend him to anyone."

Debbie & Eddie in Wildwood, IL

5★★★★★ - "Great crew
Great work
Nice guys
Very polite
Clean work area
Very fair price
Will recommend them !"

Kevin in Waukegan, IL

5★★★★★ - "Mario and his team are fantastic. They took such care with our long neglected wood siding and made it beautiful. Clean and courteous and Mario is always available. Will definitely use on future projects."

P & S in Libertyville, IL

5★★★★★ - "Best paint job I've ever seen. Mario & his men are without a doubt the best."

Paul C., Painting in Waukegan, IL

5★★★★★ - "Customer satisfaction is Mario's No.1 priority. We were very satisfied and he has reasonable prices."

R.H., Painting in Lake Bluff, IL

5★★★★★ - "Mario and his team did a great job on our entire exterior project and some interior. He is very quick and attentive. Price is reasonable too."

Max H., House Painting in Lake Forest, IL

5★★★★★ - "Mario and crew exceeded our expectations. Beautiful & detailed painting every inch of our interior home. Fantastic communication and a complete pleasure to work with."

Kim & Brad M., Interior Painting in Lake Forest, IL

5★★★★★ - "The best!! Can't say enough about Mars Painting!! The price was great and within my budget! Mario is so helpful and kind. His crew are all wonderful guys!! So neat and clean!! My crown moldings look wonderful! Mikes the kindness and the best carpenter around! Luis, George, Pancho you guys are wonderful
!!!Thanks for all your help! My house looks amazing because of you!!"

Loretta in Highland Park, IL

5★★★★★ - "Outstanding. Punctual. Courteous. Totally professional. I highly recommend Mario and his excellent crew!"

A.S. in Highland Park, IL

5★★★★★ - "Mario and his staff did an outstanding job on a tricky and complex ceiling job. On time and professional quality from start to finish, great communication and pricing. I will definitely call Mars for my future painting needs."

Mike L., Ceiling Painting in Mundelein, IL

5★★★★★ - "Mario and his crew are the best! They did an outstanding job on our home and kept a very strict deadline we had to move into our home. They transformed our home from 1988 to 2014!! They are timely, dependable and reliable. I highly recommend them!"

Susan, House Painting in Libertyville, IL

2017-04-07

5★★★★★ - "We would highly recommend Mars Painting for many reasons. Mario and his team exceeded our expectations from the start of our project. We were impressed with the crew's professionalism and attention to detail. Their work was precise and clean, and we are extremely happy with the finished product."

Lana and Jim M., Painting in Lake Bluff, IL
---
Call for FREE Vinyl Siding Painting Quote
---